Your search results
Philippines
Indian
Sri Lanka
Myanmar
Indonesian
Cambodia
Others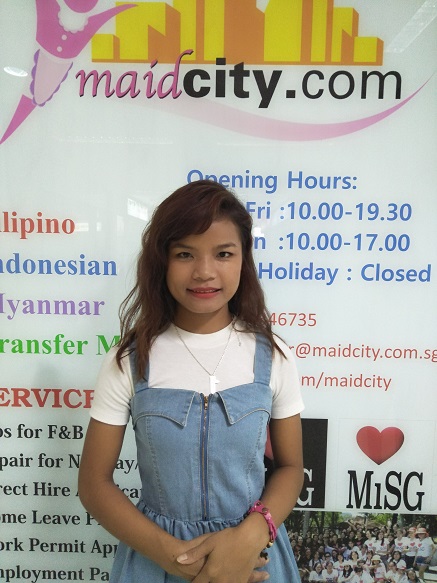 Age
27/07/1990 / 27 years old
Education
High School (SMP)
Maid Introduction
* Take note that this information is generated automatically and should only be taken as reference and not to be solely relied on when hiring a maid.
Ngente Lalremruati, Au Pair from the Indian. She has experience in general household work like cleaning,laundry,ironing etc., she is responsible, confident and trustworthy. She Speaks English. She's can cook chinese, western dishes. She is good with babies. She is good with children. She is good with elderly.


Medical History/Dietary Restrictions
Food Handling Preferences:
Skills
Areas of Work
Willingness
Experience
Evaluation
More informations
Cooking
Type of Cooking: Chinese, Western
Name Dishes: creamy pasta, pork chop, fried rice, cookies, cakes, bread, soup, olive oil bolognese, tomato spaghetti, pork donburg, omurice, oyokodon and more.
Additional Information
Areas of Work
Willingness
Experience
Evaluation
Care of newborn baby (0-3 months)
Care of babies aged (4-12 months)
Care of children (1-5 years)
Care of children (6-10 years)
Care of children (Above 10 years)
Care of child with special needs
Work Experience
Name of Employer (1):
-
Date (from − to):
18/6/14 to Present
Country of Work:
Singapore
Nationality / Race:
Chinese
Language Used:
English/Mandarin
Type of House:
Condo
Members in the family:
4
Starting / Last Salary:
$480 / $502
Age of Children / Elderly:
4 & 8
Off day(s) given:
1
Duties in detail:
household chores, cooking, marketing, taking care kids
Reason for leaving:
Preference of work
Duty
Rating
Care of babies
Care of children
Cooking
Routine housework
Care of elderly
Message to the Employer
My name is Lalremruti Ngente and I'm from Northeast India. I am a high school graduate and I am Christian. I currently working in Singapore since 2014 as a domestic helper. My main chores in the house is cooking, house cleaning and taking care of two kids. When I started working in Singapore I'm taking care of 3 months and now she is 4 years old. I with my employer and I treat them like my second family. In my country I'm working as a hair stylish and I wanted to start my own business without my family help. I like baby and children. I love to play with them and reading books to them and teach them baking and simple cooking. I also like cooking and I can cook any food with recipe. I hope you would be able to give me a chance to experience in Norway and chase my dream in future. I am trustworthy person. I am willing to learn whatever you want me to do.