Jane A.Octavio
Your search results
Philippines
Indian
Sri Lanka
Myanmar
Indonesian
Cambodia
Others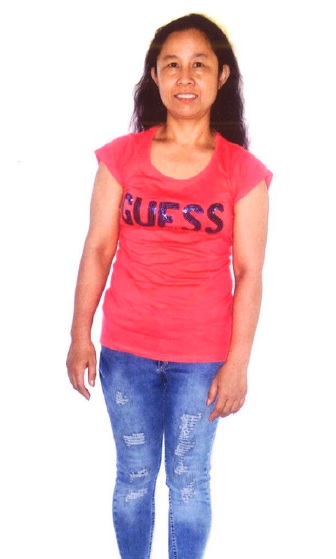 Age
22/01/1973 / 46 years old
Education
High School (SMP)
Number of Children
3 Childrens
Maid Introduction
* Take note that this information is generated automatically and should only be taken as reference and not to be solely relied on when hiring a maid.
Jane A.Octavio, Ex-Abroad from the Philippines. She has experience in general household work like cleaning,laundry,ironing etc., she is responsible, confident and trustworthy. She has 3 childrens (16, 19 & 20). She Speaks English. She's can cook chinese, arabic, filipino dishes. She is good with children.


Medical History/Dietary Restrictions

Past and existing illnesses (including chronic ailments and illnesses requiring medication):
Food Handling Preferences:
Skills
Areas of Work
Willingness
Experience
Evaluation
More informations
Cooking
Type of Cooking: Chinese, Arabic, Filipino
Name Dishes: chop suey, adobo, chicken curry, pasolya, vasila rose and more.
Additional Information
Areas of Work
Willingness
Experience
Evaluation
Care of newborn baby (0-3 months)
Care of babies aged (4-12 months)
Care of children (1-5 years)
Care of children (6-10 years)
Care of children (Above 10 years)
Care of child with special needs
Work Experience
Name of Employer (1):
-
Date (from − to):
2014 to 2018
Country of Work:
Jordan
Nationality / Race:
Jordanian
Language Used:
English/ Arabic
Type of House:
Condo
Members in the family:
4
Starting / Last Salary:
Age of Children / Elderly:
2 & 5
Off day(s) given:
Duties in detail:
household, take care kids
Reason for leaving:
Preference of work
Duty
Rating
Care of babies
Care of children
Cooking
Routine housework
Care of elderly
Sign into your account
Create an account
A password will be e-mailed to you
Reset Password
I'm interested in maid Ref no: 1085
Please contact me