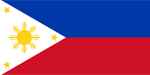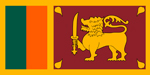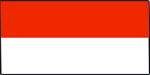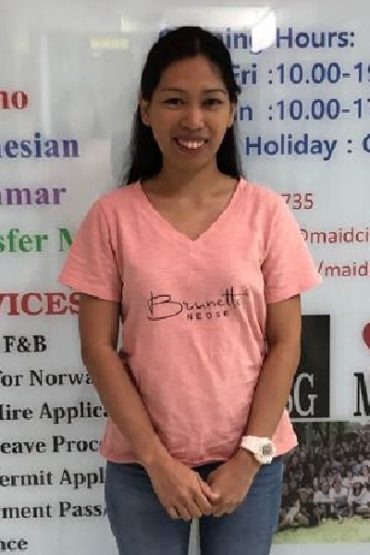 Age
26/04/1993

/

29 years old
Education
Vocational (2 yrs College)
Maid Introduction
* Take note that this information is generated automatically and should only be taken as reference and not to be solely relied on when hiring a maid.
CAVA KATHRENE CUENCA, Au Pair from the Philippines. She has experience in general household work like cleaning,laundry,ironing etc., she is responsible, confident and trustworthy. She Speaks English. She is good with babies. She is good with children. She is good with elderly.
She has attained a Vocational Certificate for Caregiving Management .
Medical History/Dietary Restrictions
Past and existing illnesses (including chronic ailments and illnesses requiring medication):
Food Handling Preferences
Skills
Areas of Work
Willingness
Experience
Assessment / Observation


Rate your skills: 1 = weak & 5 = very good

Care of Infant/Children
N/A
Please specify age range:
Care of Elderly
N/A
Care of Disable
N/A
General Housework
N/A
Cooking
N/A
Name Dishes: Adobo, chicken curry, pork chop char siew, sweet and sour fish/chicken, black pepper chicken, stir fry vegetable, fried prawn, stir fry noodle, grilled meat, pasta, salad, baked cakes, cupcake, chocolate cookie, etc.
Language Skill: English
Additional Information
Areas of Work
Willingness
Experience
Assessment / Observation


Rate your skills: 1 = weak & 5 = very good

Child Care
Care of newborn baby (0-3 months)
N/A
Care of babies aged (4-12 months)
N/A
Care of children (1-5 years)
N/A
Care of children (6-10 years)
N/A
Care of children (Above 10 years)
N/A
Care of child with special needs
N/A
General Housework
Operate washing machine
N/A
Operate gas stove
N/A
Operate vacuum cleaner
N/A
Operate microwave oven
N/A
Ironing
N/A
Work Experience
Date (from − to):
23/11/2018 - current
Country of Work:
Singapore
Nationality / Race:
Chinese
Type of House:
Condominium
Starting / Last Salary:
Empty
Age of Children / Elderly:
3 years old
Off day(s) given:
Every Sunday
Duties in detail:
General household chores, cooking, grocery shopping, looking after the child (sending and fetching from school, play, and reading storybooks.
Reason for leaving:
Applying to Norway
Preference of work
| Duty | Rating |
| --- | --- |
| Care of babies | |
| Care of children | |
| Cooking | |
| Routine housework | |
| Care of elderly | |
Message to the Employer

Dear employers, my name is Katherine Cava 28 years old from the Philippines. We are five in the family I am the eldest and the breadwinner. My father has passed away while my mother is a housewife looking after my siblings. I have attained a vocational certificate in Caregiving Management, afterward, I have joined on-the-job training as a caregiver at the home for the aged and hospital in our province. I have moved to Manila and work as a full-time Nanny to a local Filipino- Chinese family of five with a newborn baby, 4 and 5 years old. I send and fetch them from school, prepare their meal, play and read storybooks, do general household chores, and cook.


Moving forward I am currently working here in Singapore for almost four years with one employer, looking after their only child and general household chores. During my free time on Sunday, I explore learning in cooking different types of cuisine as well as baking. I spend time with my cousin doing outdoor activities like hiking and going to church. I would love to explore your country in learning its culture, languages, cuisine, and expand my skills in healthcare.


I am trustworthy, organize, hard-working, and loving person to the elderly, children, pets, and nature.
I believe I am the right fit to have a positive impact on your household and to be a positive influence on your children.
I appreciate your time and consideration and look forward to being allowed to be part of your beautiful family.