Daisy Deguit Alabata
Your search results
Philippines
Indian
Sri Lanka
Myanmar
Indonesian
Cambodia
Others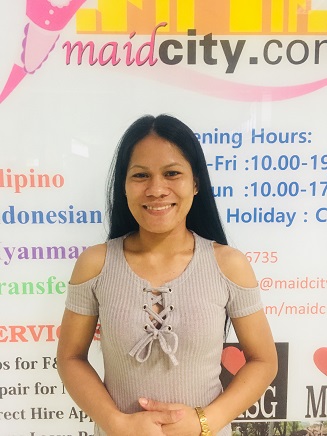 Name
Daisy Deguit Alabata
Age
12/12/1989 / 29 years old
Marital Status
Divorced/Separated
Education
High School (SMP)
Maid Introduction
* Take note that this information is generated automatically and should only be taken as reference and not to be solely relied on when hiring a maid.
Daisy Deguit Alabata, Ex-Singapore from the Philippines. She has experience in general household work like cleaning,laundry,ironing etc., she is responsible, confident and trustworthy. She Speaks English, Tagalog. She's can cook chinese, western, filipino dishes. She is good with babies. She is good with children. She is good with elderly.


Medical History/Dietary Restrictions

Past and existing illnesses (including chronic ailments and illnesses requiring medication):
Food Handling Preferences:
Skills
Areas of Work
Willingness
Experience
Evaluation
More informations
Cooking
Type of Cooking: Chinese, Western, Filipino
Name Dishes: She can cook Australian dishes, chinese soup, pasta, spaghetti bolognese, chicken or mushroom pie, potato salad, etc. She can follow recipe books.
Additional Information
Areas of Work
Willingness
Experience
Evaluation
Care of newborn baby (0-3 months)
Care of babies aged (4-12 months)
Care of children (1-5 years)
Care of children (6-10 years)
Care of children (Above 10 years)
Care of child with special needs
Work Experience
Name of Employer (1):
-
Date (from − to):
15/08/2015 - Present
Country of Work:
Singapore
Nationality / Race:
Chinese
Language Used:
English
Type of House:
HDB
Members in the family:
4
Starting / Last Salary:
600
Age of Children / Elderly:
6 & 7
Off day(s) given:
4
Duties in detail:
General housekeeping, cooking, taking care of the children
Reason for leaving:
She wants to find a better opportunity and to travel.
Preference of work
Duty
Rating
Care of babies
Care of children
Cooking
Routine housework
Care of elderly
Message to the Employer
Hi! I am Daisy D. Alabata, 28 years of age from Tugawe, Dawin Negros Occidental. I was born on December 12, 1989. My mother's name is Josephine Deguit and my father's name is Jesus F. Deguit II. I have eight siblings. I am a high school graduate at Punta National High School. My hobbies are singing, dancing, cooking and baking, working out and reading books.

I worked before as a cashier in a mini grocery. My employer was kind and good to me. I worked in the grocery for four years. I decided to leave them because I found a better opportunity with a higher salary. I found a job as an assistant cook in Drill Shack Resort in my hometown. I was able to interact with various nationalities because we had guests coming from all parts of the world. I worked in the resort for four years. I started applying for jobs overseas for a better opportunity to earn a higher salary. I was able to find a job as a helper in Singapore in 2015.

I am currently working for a Chinese family with four members. My employers live in a flat with their two kids aged six and seven. My job is to do general housekeeping, cooking and taking care of the children. They are such a good family, they are very kind to me. They support me in my decision to find a job in Norway because they know that it would be a great opportunity for me to be able to experience a new culture and to earn a higher salary to help my family. I have heard many good things about Norway - it's beauty and the great people.

Sir and Ma'am please consider me for I will do my best to be of service to your family. I am a trustworthy, cheerful, and lively person. I am looking forward to become part of your family. Thank you.
Sign into your account
Create an account
A password will be e-mailed to you
Reset Password
I'm interested in maid Ref no: 717
Please contact me