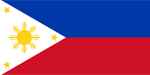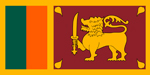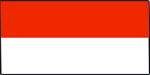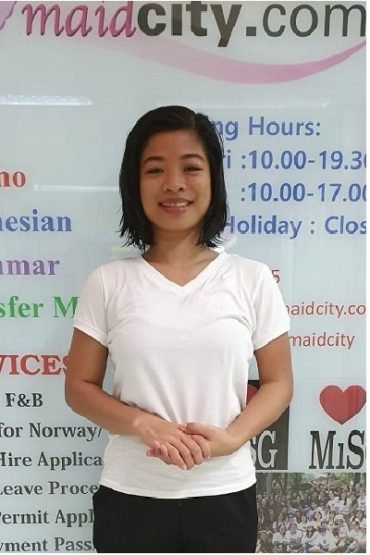 Name
LAFORTEZA CLAIRE CORPUZ
Age
16/03/1991

/

31 years old
Education
Vocational (2 yrs College)
Maid Introduction
* Take note that this information is generated automatically and should only be taken as reference and not to be solely relied on when hiring a maid.
LAFORTEZA CLAIRE CORPUZ, Au Pair from the Philippines. She has experience in general household work like cleaning,laundry,ironing etc., she is responsible, confident and trustworthy. She Speaks English, Tagalog. She's can cook chinese, indian, western, filipino dishes. She is good with babies. She is good with children. She is good with elderly.
Acquired Nursing Aid and Hospitality for Restaurant Services Diploma.
She likes taking care of children, cooking and baking.
Medical History/Dietary Restrictions
Past and existing illnesses (including chronic ailments and illnesses requiring medication):
Food Handling Preferences
Skills
Areas of Work
Willingness
Experience
Assessment / Observation


Rate your skills: 1 = weak & 5 = very good

Care of Infant/Children
N/A
Please specify age range:
Care of Elderly
N/A
Care of Disable
N/A
General Housework
N/A
Cooking
N/A
Type of Cooking: Chinese,Indian,Western,Filipino
Name Dishes: Chicken/pork adobo,chicken curry, beef and orange stir fry,nasi goreng, satay,stir fry vege and prawn,fried noodles,spring roll,teriyaki,palak paneer,butter chicken, aloo gobi , cauliflower fried rice,soup,pasta,friend chicken,grilled meat,baking, etc.
Language Skill: English

Language Skill: Tagalog
Additional Information
Areas of Work
Willingness
Experience
Assessment / Observation


Rate your skills: 1 = weak & 5 = very good

Child Care
Care of newborn baby (0-3 months)
N/A
Care of babies aged (4-12 months)
N/A
Care of children (1-5 years)
N/A
Care of children (6-10 years)
N/A
Care of children (Above 10 years)
N/A
Care of child with special needs
N/A
General Housework
Operate washing machine
N/A
Operate gas stove
N/A
Operate vacuum cleaner
N/A
Operate microwave oven
N/A
Ironing
N/A
Work Experience
Date (from − to):
12/12/2014-06/01/2015
Country of Work:
Singapore
Nationality / Race:
Chinese/Malay
Starting / Last Salary:
Empty
Age of Children / Elderly:
5,9
Duties in detail:
Taking care of children, general household chores,cooking
Reason for leaving:
Verbally abused
Date (from − to):
06/01/2015-06/12/2018
Country of Work:
Singapore
Nationality / Race:
Indian
Type of House:
Condominium
Starting / Last Salary:
$550
Age of Children / Elderly:
2,6
Duties in detail:
Taking care of children (sending and fetching them from school) general household chores,cooking, grocery shopping
Reason for leaving:
Finished contract
Date (from − to):
06/12/2018-27/03/2019
Country of Work:
Singapore
Type of House:
Condominium
Starting / Last Salary:
$700
Age of Children / Elderly:
1.5 mos
Duties in detail:
Child minding, general household chores,cooking,car washing
Reason for leaving:
Can\'t get along with other helper
Date (from − to):
27/03/2019-Present
Country of Work:
Singapore
Nationality / Race:
British
Type of House:
Condominium
Starting / Last Salary:
$700
Age of Children / Elderly:
12,13
Duties in detail:
Taking care of children,general household chores, cooking, car washing, grocery shopping
Reason for leaving:
Applying to Norway
Preference of work
| Duty | Rating |
| --- | --- |
| Care of babies | |
| Care of children | |
| Cooking | |
| Routine housework | |
| Care of elderly | |
Message to the Employer
Good day, my name is Claire Laforteza from the Philippines, I'm 29 years old Christian. My parents are both farmer and I am the eldest child. I took up Nursing Aid and Hospitality for Restaurant Service course. I have learned how to handle elderly and childcare, basic first aid like cpr,rb as well as taking vital signs. I attended on the job training at a restaurant that enhanced my skills in cooking. After I graduated I have worked as a cashier at a local restaurant in my province.

I have worked here in Singapore for few years with different employer and nationality. My main duties are taking care of children (sending and fetching from school and other activities, play with them and read books, general household chores. cooking, car washing, and grocery shopping. Currently I am still working with a British family performing the same duties. While working with them I took up and completing a yoga instructor training course.

During my free time, I spend most of it learning different cuisine and baking as well as discovering new skills that will be useful and will improve my knowledge.

To my future employer, I am looking forward to join and be part of your lovely family. I am hardworking, easy to adopt, fond of kids and pets. It will be amazing to learn your culture, cuisine and beautiful country.
Thank you very much