Roxan D.Campaner
Your search results
Philippines
Indian
Sri Lanka
Myanmar
Indonesian
Cambodia
Others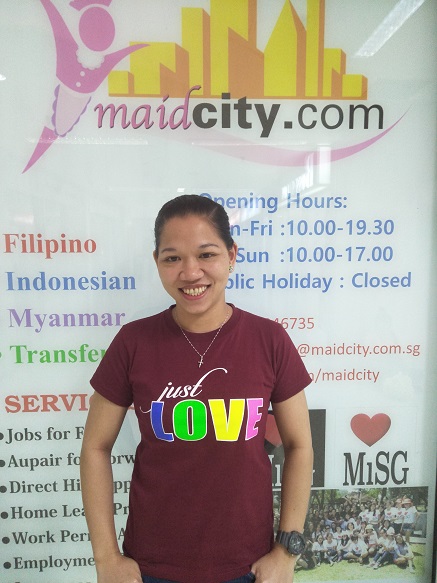 Age
23/03/1990 / 28 years old
Education
High School (SMP)
Maid Introduction
* Take note that this information is generated automatically and should only be taken as reference and not to be solely relied on when hiring a maid.
Roxan D.Campaner, Ex-Singapore from the Philippines. She has experience in general household work like cleaning,laundry,ironing etc., she is responsible, confident and trustworthy. She Speaks English. She's can cook chinese, filipino dishes. She is good with babies. She is good with children. She is good with elderly.


Medical History/Dietary Restrictions

Past and existing illnesses (including chronic ailments and illnesses requiring medication):
Food Handling Preferences:
Skills
Areas of Work
Willingness
Experience
Evaluation
More informations
Cooking
Type of Cooking: Chinese, Filipino
Name Dishes: fish soup, cabbage soup, steam egg, pasta, french toast, mashed potato, macaroni salad, porridge, spaghetti, pork chop, adobo, curry chicken and more.
Additional Information
Areas of Work
Willingness
Experience
Evaluation
Care of newborn baby (0-3 months)
Care of babies aged (4-12 months)
Care of children (1-5 years)
Care of children (6-10 years)
Care of children (Above 10 years)
Care of child with special needs
Work Experience
Name of Employer (1):
-
Date (from − to):
11/6/16 to Present
Country of Work:
Singapore
Nationality / Race:
Chinese
Language Used:
English
Type of House:
Condo
Members in the family:
5
Starting / Last Salary:
$550
Age of Children / Elderly:
2,4 & 6
Off day(s) given:
4
Duties in detail:
childcare, cooking, housekeeping
Reason for leaving:
Preference of work
Duty
Rating
Care of babies
Care of children
Cooking
Routine housework
Care of elderly
Message to the Employer
Hi, I'm Roxan Domingo Campaner, 28 years old, single no kids. I'm from the Philippines. I have one sister I'm the youngest. I have a brother but passed away already. My mother is housewife while my father is farmer. I didn't finish my study in collage because of financial problem. I started to work in a mall at the age of 16 years old and that age I became independent. I decided to work abroad because my salary not enough to support my family that's why I'm here in Singapore.

I've been here in Singapore for 2 years. I took care of a 3 years old boy, clean the house, cook, wash clothes. If the all children in the school after that fetch them in school. Bathing them, give him the lunch and nap in the afternoon. I love clean the house and play with kids. I want also to cook especially if I see in the tv show new recipe then I try to cook.

I hope you would be able to give me a chance to work and experience life in Norway. I'm very excited to experience life in Norway. I'm very excited to experience snow for the first time and learn your culture. I would to explore level skiing in snow. I'm looking forward to work with you and please make it all happen. I will work hard with you.
Sign into your account
Create an account
A password will be e-mailed to you
Reset Password
I'm interested in maid Ref no: 1048
Please contact me