Maid forced to sleep outside dies
12 February 2018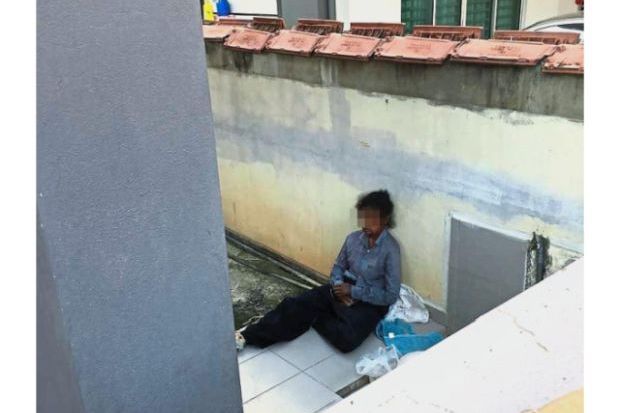 BUKIT MERTAJAM: A day before she died, 21-year-old Adelina sat on the porch, too terrified to respond to rescuers.
She only glanced at them and shook her head. A black Rottweiler, tied on a leash beside her, barked at the rescuers.
Neighbours claimed the woman from Medan, Indonesia, had been forced to sleep with the Rottweiler on the porch for over a month before she was found on Saturday.
Adelina died yesterday at the hospital. The employer and her brother are being investigated for murder.
Her rescuers – assistants to Bukit Mertajam MP Steven Sim – went on Saturday to the double-storey semi­-detached house in Taman Kota Permai after being alerted by a journalist.
One of them, Por Cheng Han, 29, said neighbours told them that Adelina was abused for over a month and made to sleep with the Rottweiler on the porch.
"We arrived and saw her on the porch. She did not respond to us and just shook her head.
"We spoke to the neighbours, who told us they often heard the employer scolding her loudly from inside the house," he said.
He said he saw pus on what appeared to be burn marks on the maid's legs.
"There was a woman in her 60s at the house when we arrived," said Por, saying that she refused to send the maid to the hospital and told them to mind their own business.
Instead, Por said he was given the phone number of the woman's daughter – the maid's employer – who denied abusing the woman and told them to wait for her to return.
He said they then contacted Tenaganita, an NGO dedicated to protecting migrants from abuse.
Por said when the employer returned, she said that she had not mistreated the maid but admitted to having slapped her in the past.
The employer allegedly told him that she had bought a cleaning chemical after the maid defecated in the kitchen's drain hole and clogged it up.
"She claimed that the maid had accidentally spilled the chemical on her legs and arms when pouring this into the drain hole, causing chemical burns, and that despite being provided with medication, she did not stop picking at her wounds, making them worse," said Por.
He said before Tenaganita volunteers could arrive, the employer bundled Adelina into her car and drove out of the house. He then called the police.
Central Seberang Prai OCPD Asst Comm Nik Ros Azhan Nik Abdul Hamid said the 36-year-old woman and her 39-year-old brother had been detained.
ACP Nik Ros said Adelina, who came to work in Malaysia about two years ago, had a swollen head and face, as well as injuries on her feet.
"Attempts to record statements from her were unsuccessful as she was still in fear.
"We sent her to Bukit Mertajam Hospital where she died," he said.
The man and woman have been remanded until Feb 14 for investigation under Section 302 of the Penal Code for murder.
Source: https://www.thestar.com.my/news/nation/2018/02/12/maid-forced-to-sleep-outside-dies-allegedly-abused-woman-left-on-porch-with-rottweiler/
The latest five let's talk posted by admin:
---